Publication:
Multifocal ERG Guiding Therapy in a Case of Hydroxychloroquine Premaculopathy.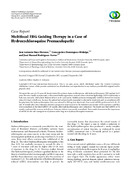 Identifiers
Advisors
Publisher
Hindawi Publishing Corporation
Abstract
We report the case of a 28-year-old female treated for systemic lupus erythematosus with hydroxychloroquine (200 mg/day) for 11 years. She was visually asymptomatic, with normal fundus appearance, normal colour vision testing findings, 20/20 visual acuity in both eyes, and only mild central bilateral defects on 10-2 perimetry. Multifocal electroretinography (mfERG) showed low density values for ring 1 in both eyes. Because the patient had not previously responded to alternative treatments and in consultation with her physician, the hydroxychloroquine dose was reduced to 200 mg four days/week. Four serial mfERGs performed at 4, 18, 25, and 34 months after dose reduction showed a progressive improvement in the definition and density of the responses until they were normalized at the third mfERG (25 months after hydroxychloroquine dose reduction). The fourth and final mfERG at 34 months confirmed the recovery in both eyes. Perimetry defects were mostly normalized. These results demonstrate the importance of mfERG for the safe management of patients under long-term hydroxychloroquine treatment.
Keywords
Visión de colores
,
Electrorretinografía
,
Femenino
,
Fondo de ojo
,
Humanos
,
Hidroxicloroquina
,
Lupus eritematoso sistémico
,
Remisión y consulta
,
Agudeza visual
,
Pruebas del campo visual
Citation
Sáez-Moreno JA, Domínguez-Hidalgo C, Rodríguez-Ferrer JM. Multifocal ERG Guiding Therapy in a Case of Hydroxychloroquine Premaculopathy. Case Rep Ophthalmol Med; 2015:656928