Publication:
Ferroptosis and kidney disease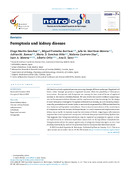 Identifiers
Advisors
Publisher
Sociedad Española de Nefrología. Editor comercial: Elsevier España, S.L.U.
Abstract
La muerte celular es un proceso minuciosamente regulado que se desarrolla a través de diferentes vías. La muerte celular regulada, ya sea mediante apoptosis o necrosis regulada, ofrece la posibilidad de introducir una intervención terapéutica. La necroptosis y la ferroptosis se encuentran entre las formas mejor estudiadas de necrosis regulada en el contexto de la nefropatía. Revisamos los datos actuales que avalan que la ferroptosis desempeña una función en la nefropatía y las repercusiones que tiene este conocimiento en el diseño de nuevas estrategias terapéuticas. La ferroptosis se define de forma funcional como una modalidad celular caracterizada por la peroxidación de ciertos lípidos, constitutivamente suprimida por GPX4 e inhibida por quelantes férricos y antioxidantes lipofílicos. Existen datos probatorios funcionales de la implicación de la ferroptosis en diversas formas de nefropatía. En un modelo de lesión renal aguda nefrotóxica bien caracterizado, la ferroptosis provocó una ola inicial de muerte, la cual desencadenó una respuesta inflamatoria que a su vez promovió la muerte celular necroptótica que perpetuó la disfunción renal. Esto sugiere que los inhibidores de la ferroptosis pueden explorarse como agentes profilácticos en la nefrotoxicidad clínica o en la lesión por isquemia-reperfusión, como durante un trasplante de riñón. Los trasplantes ofrecen una oportunidad única para el uso de agentes inhibidores de la ferroptosis ex vivo, con lo que se evitarían los problemas de biodisponibilidad y los problemas de farmacocinética y farmacodinámica in vivo.
Cell death is a finely regulated process occurring through different pathways. Regulated cell death, either through apoptosis or regulated necrosis offers the possibility of therapeutic intervention. Necroptosis and ferroptosis are among the best studied forms of regulated necrosis in the context of kidney disease. We now review the current evidence supporting a role for ferroptosis in kidney disease and the implications of this knowledge for the design of novel therapeutic strategies. Ferroptosis is defined functionally, as a cell modality characterized by peroxidation of certain lipids, constitutively suppressed by GPX4 and inhibited by iron chelators and lipophilic antioxidants. There is functional evidence of the involvement of ferroptosis in diverse forms of kidneys disease. In a well characterized nephrotoxic acute kidney injury model, ferroptosis caused an initial wave of death, triggering an inflammatory response that in turn promoted necroptotic cell death that perpetuated kidney dysfunction. This suggests that ferroptosis inhibitors may be explored as prophylactic agents in clinical nephrotoxicity or ischemia-reperfusion injury such as during kidney transplantation. Transplantation offers the unique opportunity of using anti-ferroptosis agent ex vivo, thus avoiding bioavailability and in vivo pharmacokinetics and pharmacodynamics issues.
Keywords
Acute kidney injury
,
Chronic kidney disease
,
Inflammation
,
Cell death
,
Regulated necrosis
,
Ferroptosis
,
Lesión renal aguda
,
Enfermedad renal crónica
,
Inflamación
,
Muerte celular
,
Necrosis regulada
,
Apoptosis
Citation
Martin-Sanchez D, Fontecha-Barriuso M, Martinez-Moreno JM, Ramos AM, Sanchez-Niño MD, Guerrero-Hue M, et al. Ferroptosis and kidney disease. Nefrologia (Engl Ed). 2020 Jul-Aug;40(4):384-394.