Publication:
Surgical Management of Patients With COVID-19 Infection. Recommendations of the Spanish Association of Surgeons.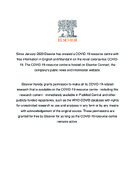 Identifiers
Authors
Martínez Cortijo, Sagrario
Pascual Miguelañez, Isabel
Advisors
Abstract
Due to the current pandemic of respiratory disease known as coronavirus disease 2019 (COVID-19) caused by the SARS-CoV-2 virus, many patients with confirmed or suspected COVID-19 infection will require elective surgery, surgery that cannot be postponed, or emergency surgical treatment. In these situations, special measures need to be adopted in order to minimize the possibility of transmission between patients, exposure of healthcare personnel and the development of postoperative complications. This document explains the main principles to consider when managing confirmed or suspected COVID-19 patients during evaluation as well as when surgical treatment is required.
Keywords
COVID-19
,
Cirugía
,
SARS-CoV-2
,
Safety
,
Seguridad
,
Surgery