Publication:
Allogeneic stem cell transplantation after reduced intensity conditioning in patients with relapsed or refractory Hodgkin's lymphoma. Results of the HDR-ALLO study - a prospective clinical trial by the Grupo Español de Linfomas/Trasplante de Médula Osea (GEL/TAMO) and the Lymphoma Working Party of the European Group for Blood and Marrow Transplantation.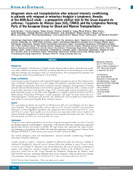 Identifiers
Advisors
Publisher
Ferrata Storti Foundation
Abstract
BACKGROUND Although Hodgkin's lymphoma is a highly curable disease with modern chemotherapy protocols, some patients are primary refractory or relapse after first-line chemotherapy or even after high-dose therapy and autologous stem cell transplantation. We investigated the potential role of allogeneic stem cell transplantation in this setting. DESIGN AND METHODS In this phase II study 92 patients with relapsed Hodgkin's lymphoma and an HLA-identical sibling, a matched unrelated donor or a one antigen mismatched, unrelated donor were treated with salvage chemotherapy followed by reduced intensity allogeneic transplantation. Fourteen patients showed refractory disease and died from progressive lymphoma with a median overall survival after trial entry of 10 months (range, 6-17). Seventy-eight patients proceeded to allograft (unrelated donors, n=23). Fifty were allografted in complete or partial remission and 28 in stable disease. Fludarabine (150 mg/m(2) iv) and melphalan (140 mg/m(2) iv) were used as the conditioning regimen. Anti-thymocyte globulin was additionally used as graft-versus-host-disease prophylaxis for recipients of grafts from unrelated donors. RESULTS The non-relapse mortality rate was 8% at 100 days and 15% at 1 year. Relapse was the major cause of failure. The progression-free survival rate was 47% at 1 year and 18% at 4 years from trial entry. For the allografted population, the progression-free survival rate was 48% at 1 year and 24% at 4 years. Chronic graft-versus-host disease was associated with a lower incidence of relapse. Patients allografted in complete remission had a significantly better outcome. The overall survival rate was 71% at 1 year and 43% at 4 years. CONCLUSIONS Allogeneic stem cell transplantation can result in long-term progression-free survival in heavily pre-treated patients with Hodgkin's lymphoma. The reduced intensity conditioning approach significantly reduced non-relapse mortality; the high relapse rate represents the major remaining challenge in this setting. The HDR-Allo trial was registered in the European Clinical Trials Database (EUDRACT, https://eudract.ema.europa.eu/) with number 02-0036.
Description
Clinical Trial, Phase II; Journal Article; Multicenter Study;
Keywords
Allogeic stem cell transplantation
,
Reduced intensity conditioning
,
Hodgkin's lymphoma relapsed
,
Refractory
,
Acondicionamiento para el trasplante
,
Enfermedad de Hodgkin
,
enfermedad injerto contra huésped
,
Estudios prospectivos
Citation
Sureda A, Canals C, Arranz R, Caballero D, Ribera JM, Brune M, et al. Allogeneic stem cell transplantation after reduced intensity conditioning in patients with relapsed or refractory Hodgkin's lymphoma. Results of the HDR-ALLO study - a prospective clinical trial by the Grupo Español de Linfomas/Trasplante de Médula Osea (GEL/TAMO) and the Lymphoma Working Party of the European Group for Blood and Marrow Transplantation. Haematologica. 2012; 97(2):310-7