Publication:
Oridonin enhances antitumor effects of doxorubicin in human osteosarcoma cells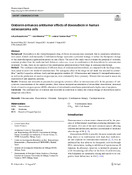 Identifiers
Advisors
Abstract
Background: Doxorubicin is the chemotherapeutic drug of choice in osteosarcoma treatment, but its cumulative administration causes dilated cardiomyopathy. Combination therapy represents a potential strategy to reduce the therapeutic dosage of the chemotherapeutic agent and minimize its side effects. The aim of this study was to evaluate the potential of oridonin, a natural product from the medicinal herb Rabdosia rubescens, to act in combination with doxorubicin for osteosarcoma treatment. To date, there are no reports of the simultaneous administration of both drugs in osteosarcoma therapy. Methods: The combined administration of different doses of oridonin and doxorubicin, as compared with the drugs alone, were tested in an in vitro model of osteosarcoma. The synergistic effect of the drugs on cell death was assessed by alamarBlue™ and by CompuSyn software. Early and late apoptosis markers (JC-1 fluorescence and Annexin V immunofluorescence), as well as the production of reactive oxygen species, were evaluated by flow cytometry. Western blot was used to assess the expression of anti-apoptotic proteins. Results: Oridonin and doxorubicin presented a synergistic cytotoxic effect in osteosarcoma cells. In the presence of sub-cytotoxic concentrations of the natural product, there was an increased accumulation of intracellular doxorubicin, increased levels of reactive oxygen species (ROS), alteration of mitochondria membrane potential and a higher rate of apoptosis. Conclusion: The combined use of oridonin and doxorubicin could help to reduce the clinical dosage of doxorubicin and its dangerous side effects.
Keywords
Osteosarcoma
,
Doxorubicin
,
Oridonin
,
Synergism
,
Combination therapy
,
Cardioprotection
,
Doxorrubicina
,
Sinergismo farmacológico
,
Quimioterapia combinada
Citation
Kazantseva L, Becerra J, Santos-Ruiz L. Oridonin enhances antitumor effects of doxorubicin in human osteosarcoma cells. Pharmacol. Rep. 2021 Aug 24.