Publication:
Association of Patients' Geographic Origins with Viral Hepatitis Co-infection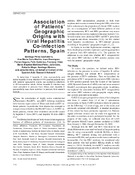 Identifiers
Advisors
Publisher
Centers for Disease Control and Prevention (CDC)
Abstract
Para determinar si la seropositividad de virus de hepatitis c y la infección por virus de la hepatitis b activa en pacientes con VIH varían con los pacientes"orígenes geográficos, estudiamos co-infecciones en adultos seropositivos de VIH. Infección de hepatitis b activa fue más frecuente en las personas procedentes de África, y hepatitis c seropositividad era más común en las personas de Europa oriental
To determine if hepatitis C virus seropositivity and active hepatitis B virus infection in HIV-positive patients vary with patients' geographic origins, we studied co-infections in HIV-seropositive adults. Active hepatitis B infection was more prevalent in persons from Africa, and hepatitis C seropositivity was more common in persons from eastern Europe.
Citation
Pérez Cachafeiro S, Caro-Murillo AM, Berenguer J, Segura F, Gutiérrez F, Vidal F, et al. Association of patients' geographic origins with viral hepatitis co-infection patterns, Spain. Emerg Infect Dis [Internet]. 2011 Jun; 17(6):1116-9.