Publication:
Evaluación económica de la inclusión en el calendario vacunal de 4CMenB (Bexsero®) en España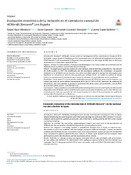 Identifiers
Advisors
Publisher
Editor responsable del artículo: Miguel Ángel Negrín Hernández (SESPAS). Publicado por Elsevier España, S.L.U.
Abstract
Introducción Bexsero® (4CMenB), vacuna contra el meningococo B, fue autorizada en Europa en 2013. En España, a pesar de que el meningococo B es la principal causa de enfermedad meningocócica invasiva (EMI), Bexsero® está recomendada y financiada para pacientes con alto riesgo de EMI pero no de forma sistemática en el calendario vacunal del SNS. Objetivo Evaluar el coste-utilidad, el impacto epidemiológico y los costes totales de la introducción de 4CMenB para una política vacunal informada en España. Método Se adaptó para España un análisis de coste-utilidad, árbol de decisión probabilístico. Una cohorte de recién nacidos en 2015 fue modelizada con dos posologías mediante dos estrategias: vacunación sistemática con 4CMenB o no vacunación. Los costes se midieron desde la perspectiva del pagador y los beneficios se calcularon en años de vida ajustados por calidad (AVAC). Se realizó un análisis de Monte Carlo y se consideraron 32 escenarios para valorar la robustez y la incertidumbre de los resultados. Resultados Con la pauta 3+1, la vacunación sistemática previno el 54% de los casos y de las muertes, y se estimó una razón de coste-utilidad incremental (RCUI) de 351.389 €/AVAC (intervalo de confianza del 95% [IC95%]: 265.193-538.428). La pauta 2+1 previno el 50% de los casos y de las muertes, con una RCUI de 278.556 €/AVAC (IC95%: 210.285-430.122). Conclusiones Dada la incidencia actual de enfermedad meningocócica invasiva en España y la información disponible sobre 4CMenB, nuestro modelo indica que la vacunación sistemática no es coste-efectiva con el actual precio. Solo con un precio de 1,45 € para la pauta 3+1 o de 3,37 € para la pauta 2+1 podría ser recomendada basándose en su eficiencia.
Introduction Bexsero® (4CMenB), meningococcal B vaccine, was licensed in Europe in 2013. In Spain, despite MenB being the most frequent cause of invasive meningococcal disease (IMD), Bexsero® is recommended and financed for patients at increased risk of IMD but is not financed by the NHS in the routine vaccination schedule. Objective to evaluate the cost-utility, epidemiological impact, and total costs of the introduction of 4CMenB into the vaccination schedule to help inform vaccine policy in Spain. Method We adapted a cost-utility analysis, a probabilistic decision-tree, to Spain. A cohort of new-born infants in 2015 was modelled with two dosages, using two different strategies: routine vaccination schedule with 4CMenB and non-vaccination. Costs were measured from a payer perspective and benefits were calculated in quality-adjusted life years (QALYs). A Monte Carlo analysis and 32 scenarios were performed to assess the robustness and the uncertainty of our results. Results With the 3+1 dosage, routine vaccination prevented 54% of cases and deaths and an incremental cost-utility ratio (ICUR) of 351.389 €/QALY (95% confidence interval [95%CI]: 265,193-538,428) was estimated. The 2+1 dosage prevented 50% of cases and deaths, with an ICUR of 278.556 €/QALY (95%CI: 210,285-430,122). Conclusions Given the current incidence of invasive meningococcal disease in Spain and the information available from 4CMenB, our model shows that routine vaccination is not cost-effective at the current price. Only with a vaccine price of 1.45 € for the 3+1 schedule or 3.37 € for the 2+1 schedule could it be recommended based on efficiency criteria.
Keywords
Análisis de costo-beneficio
,
España
,
Lactantes
,
Vacunas meningocócicas
,
Preescolares
,
Neisseria meningitidis serogrupo B
,
Vacunación masiva
,
Cost-benefit analysis
,
Spain
,
Infant
,
Meningococcal vaccines
,
Child
,
Preschool
,
Neisseria meningitidis serogroup B
,
Mass vaccination
Citation
Ruiz-Montero R, Epstein D, Guzmán Herrador B, Espín Balbino J. Evaluación económica de la inclusión en el calendario vacunal de 4CMenB (Bexsero®) en España. Gac Sanit. 2020 Jul-Aug;34(4):318-325