Publication:
Artrodesis de tobillo: resultados comparativos de diferentes técnicas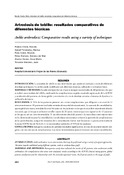 Identifiers
Advisors
Publisher
Sociedad Andaluza de Traumatología y Ortopedia
Abstract
INTRODUCCIÓN: La artrodesis de tobillo es una intervención que puede ser realizada a través de diferentes abordajes quirúrgicos. La unión puede estabilizarse con diferentes sistemas, utilizando o no injertos óseos. MATERIAL Y METODOS: Estudio retrospectivo en el que se recogen los resultados de 40 pacientes a los que se realizó una artrodesis del tobillo, analizando las complicaciones surgidas, resultado según escala de la AOFAS y satisfacción del paciente, de forma global y en relación a la vía de abordaje articular, el sistema de fijación o la utilización de injerto. RESULTADOS: El 55% de los pacientes presentó una o más complicaciones, que obligaron a un total de 12 reintervenciones en 10 pacientes (excluidas retiradas de material de osteosíntesis). La ausencia de consolidación, que requirió una nueva artrodesis fue más frecuente en los pacientes en los que no se utilizó osteosíntesis (dos de tres casos), que en los que se utilizaron tornillos (cuatro de 24 casos), mientras que no se registró en los 13 pacientes en los que se usó un clavo intramedular. El uso del extremo distal del peroné o la cresta iliaca como injerto óseo no ha demostrado mejorar la consolidación. Los abordajes artroscópicos evitaron la aparición de complicaciones de las partes blandas, aunque los trastornos de la consolidación fueron más frecuentes. La puntuación media en la escala AOFAS fue de 56,4±21,2 y se encontraban satisfechos el 55% de los pacientes. CONCLUSIONES: Aunque la casuística no permite resultados signifcativos, se trata de una intervención exgente, con una alta tasa de complicaciones. Los clavos intramedulares parecen favorecer una mejor consolidación.
INTRODUCTION: Ankle arthrodesis in an intervention that may be performed using a variety of surgical approaches. The joint may be stabilized using diferent systems, with or without bone graft. MATERIAL AND METHODS: Retrospective study that collected the results of 40 patients who underwent ankle arthrodesis; the complications that arose were analyzed, results according to the AOFAS clinical rating system, global patient satisfaction and the relationship with the articular approach route, the !xation system or the usage of grafts.RESULTS: 55% of the patients presented one or more complication that motivated a total of 12 re-interventions in 10 patients (excludes removal of osteosynthesis material). The absence of consolidation, which required a new arthrodesis was more frequent in patients where osteosynthesis was not used (two out of three cases) than in those using screws (four out of 24 cases), while there was no register of this in 13 patients in which intramedullary pin. The use of the distal extreme of the fibula or the iliac crest as bone graft has failed to improve the consolidation. Arthroscopic approaches avoid the appearance of soft tissue complications, although the consolidation disorders were more frequent. The average score on the AOFAS clinical rating system was 56.4±21.2 and 55% of the patients were satisfied. CONCLUSIONS: Although the case histories fail to provide significant results, it is a demanding intervention, with an elevated complication rate. Intramedullary pins seem to favor improved consolidation.
Keywords
Ankle arthrosis
,
Ankle arthrodesis
,
Artrosis tobillo
,
Artrodesis tobillo
Citation
Artrodesis de tobillo: resultados comparativos de diferentes técnicas. Rev. S. And. Traum.Prados Olleta N, Galadí Fernández M, Plais Cotrel N, Pérez Romero DM, Álvarez Osuna R, Tercedor Sánchez J. Ort., 2012;29(2/2):9-15