Publication:
Non-invasive prenatal diagnosis of multiple endocrine neoplasia type 2A using COLD-PCR combined with HRM genotyping analysis from maternal serum.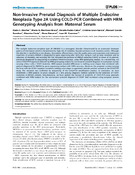 Identifiers
Advisors
Publisher
Public Library of Science
Abstract
The multiple endocrine neoplasia type 2A (MEN2A) is a monogenic disorder characterized by an autosomal dominant pattern of inheritance which is characterized by high risk of medullary thyroid carcinoma in all mutation carriers. Although this disorder is classified as a rare disease, the patients affected have a low life quality and a very expensive and continuous treatment. At present, MEN2A is diagnosed by gene sequencing after birth, thus trying to start an early treatment and by reduction of morbidity and mortality. We first evaluated the presence of MEN2A mutation (C634Y) in serum of 25 patients, previously diagnosed by sequencing in peripheral blood leucocytes, using HRM genotyping analysis. In a second step, we used a COLD-PCR approach followed by HRM genotyping analysis for non-invasive prenatal diagnosis of a pregnant woman carrying a fetus with a C634Y mutation. HRM analysis revealed differences in melting curve shapes that correlated with patients diagnosed for MEN2A by gene sequencing analysis with 100% accuracy. Moreover, the pregnant woman carrying the fetus with the C634Y mutation revealed a melting curve shape in agreement with the positive controls in the COLD-PCR study. The mutation was confirmed by sequencing of the COLD-PCR amplification product. In conclusion, we have established a HRM analysis in serum samples as a new primary diagnosis method suitable for the detection of C634Y mutations in MEN2A patients. Simultaneously, we have applied the increase of sensitivity of COLD-PCR assay approach combined with HRM analysis for the non-invasive prenatal diagnosis of C634Y fetal mutations using pregnant women serum.
Description
Journal Article; Research Support, Non-U.S. Gov't;
Keywords
Diagnóstico Prenatal
,
Neoplasia Endocrina Múltiple
,
Neoplasia Endocrina tipo 2A
,
Técnicas de Genotipaje
,
Mutación
,
ADN Polimerasa
,
Mujeres Embarazadas
Citation
Macher HC, Martinez-Broca MA, Rubio-Calvo A, Leon-Garcia C, Conde-Sanchez M, Costa A, et al. Non-invasive prenatal diagnosis of multiple endocrine neoplasia type 2A using COLD-PCR combined with HRM genotyping analysis from maternal serum. PLoS ONE; 7(12):e51024