Publication:
Molecular and immunological characterization of gluten proteins isolated from oat cultivars that differ in toxicity for celiac disease.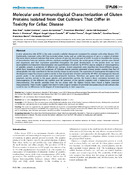 Identifiers
Advisors
Publisher
Public Library of Science
Abstract
A strict gluten-free diet (GFD) is the only currently available therapeutic treatment for patients with celiac disease (CD). Traditionally, treatment with a GFD has excluded wheat, barley and rye, while the presence of oats is a subject of debate. The most-recent research indicates that some cultivars of oats can be a safe part of a GFD. In order to elucidate the toxicity of the prolamins from oat varieties with low, medium, and high CD toxicity, the avenin genes of these varieties were cloned and sequenced, and their expression quantified throughout the grain development. At the protein level, we have accomplished an exhaustive characterization and quantification of avenins by RP-HPLC and an analysis of immunogenicity of peptides present in prolamins of different oat cultivars. Avenin sequences were classified into three different groups, which have homology with S-rich prolamins of Triticeae. Avenin proteins presented a lower proline content than that of wheat gliadin; this may contribute to the low toxicity shown by oat avenins. The expression of avenin genes throughout the development stages has shown a pattern similar to that of prolamins of wheat and barley. RP-HPLC chromatograms showed protein peaks in the alcohol-soluble and reduced-soluble fractions. Therefore, oat grains had both monomeric and polymeric avenins, termed in this paper gliadin- and glutenin-like avenins. We found a direct correlation between the immunogenicity of the different oat varieties and the presence of the specific peptides with a higher/lower potential immunotoxicity. The specific peptides from the oat variety with the highest toxicity have shown a higher potential immunotoxicity. These results suggest that there is wide range of variation of potential immunotoxicity of oat cultivars that could be due to differences in the degree of immunogenicity in their sequences.
Keywords
Avena sativa
,
Enfermedad Celíaca
,
Dieta Sin Gluten
,
Prolaminas
,
Glútenes
Citation
Real A, Comino I, Lorenzo L de, Merchán F, Gil-Humanes J, Giménez MJ, et al. Molecular and immunological characterization of gluten proteins isolated from oat cultivars that differ in toxicity for celiac disease. PLoS ONE. 2012; 7(12):e48365