Publication:
Adipose mesenchymal stromal cells isolated from type 2 diabetic patients display reduced fibrinolytic activity.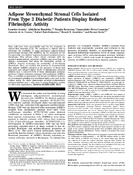 Identifiers
Advisors
Publisher
American Diabetes Association
Abstract
Stem cells have been successfully used for the treatment of critical limb ischemia (CLI). We conducted a clinical trial to determine the feasibility of using autologous adipose-derived mesenchymal stromal cells (AdMSCs) for the treatment of CLI. Unexpectedly, two diabetic patients developed peripheral microthrombosis. This adverse effect, which contrasts with the reported antithrombotic properties of MSCs, may stem from the diabetic environment that alters the fibrinolytic activity of AdMSCs, thereby increasing the probability of developing thrombosis. Here, we confirm this premise by demonstrating that diabetic AdMSCs cultured in the presence of blood sera expressed and released higher levels of plasminogen activator inhibitor type 1, reduced levels of tissue plasminogen activator, and lower d-dimer formation compared with nondiabetic AdMSCs. Thus, to establish an appropriate cell therapy for diabetic patients, we recommend including new preclinical safety tests, such as the d-dimer and/or the tissue plasminogen activator-to-plasminogen activator inhibitor type 1 ratio tests, to assess fibrinolytic activity of cells before implantation.
Description
Journal Article; Research Support, Non-U.S. Gov't;
Keywords
Tissue Plasminogen Activator
,
Plasminogen Activator Inhibitor 1
,
Células del Estroma Mesenquimatoso
,
Diabetes Mellitus, Type 2
,
Fibrinólisis
Citation
Acosta L, Hmadcha A, Escacena N, Pérez-Camacho I, de la Cuesta A, Ruiz-Salmeron R, et al. Adipose mesenchymal stromal cells isolated from type 2 diabetic patients display reduced fibrinolytic activity. Diabetes. 2013; 62(12):4266-9