Publication:
Cost effectiveness of a protocol using palivizumab in preterm infants.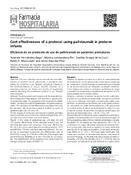 Identifiers
Advisors
Abstract
Objetivo: El objetivo principal fue evaluar el coste-efectividad del protocolo de uso de palivizumab en prematuros instaurado por consenso en nuestro hospital comparándolo con el basado en las recomendaciones de diferentes sociedades científicas. Como objetivo secundario se analizaron los factores de riesgo y gravedad de los pacientes hospitalizados atendiendo al protocolo establecido en nuestro centro. Material y métodos: El periodo de estudio fue de cuatro temporadas con el protocolo ampliado (datos retrospectivos) frente a dos con el protocolo restringido o consensuado (datos prospectivos). La perspectiva del estudio fue la del sistema sanitario, incluyendo los costes de hospitalización y del palivizumab en nuestro centro. El cálculo de la efectividad se determinó con la tasa de ingresos de pacientes prematuros estratificados por semanas de edad gestacional: < de 29, supuso un ahorro medio por temporada de 169.911,51€. Se constata una relación coste-efectividad adecuada del protocolo ampliado si el coste del palivizumab por paciente fuese menor de 1.206,67€ (calculados para el máximo aprovechamiento del vial) y para una tasa de hospitalización mayor de 9,21%. Los niños que ingresan en las temporadas con el nuevo protocolo (temporada 12/13 y 13/14) son en un 63,4% niños menores de 3 meses y el 90% son neonatos a término que no pertenecen a ninguna población de riesgo, mientras que muchos de ellos tienen asociados varías factores de riesgo como tener hermanos en edad escolar, residencia rural, padres fumadores, escasa formación académica de los progenitores, ausencia de lactancia artificial e historia familiar de alergia. Conclusiones: El protocolo consensuado no ha supuesto un aumento significativo en las tasas de hospitalización en los pacientes prematuros <32 semanas de EG. En aquellos <35 se ha observado una mayor tasa de hospitalización, con una relación coste-efectividad muy desfavorable para todos los escenarios clínicos valorados.
The main objective was to evaluate the cost-effectiveness of protocol use of palivizumab in premature established by consensus in our Hospital comparing it based on the recommendations of various Scientific Societies. As a secondary objective risk factors and severity of hospitalized patients attending the established protocol in our Hospital were analyzed.
Description
Artículo bilingüe inglés/español
Keywords
Respiratory syncytial virus
,
Palivizumab
,
Premature
,
Neonate
,
Cost-effectiveness
,
Gestacional age
,
Virus sincitial respiratorio
,
Palivizumab
,
Prematuro
,
Neonato
,
Eficiencia
,
Edad gestacional
Citation
Hernández-Gago Y, Lombardero-Pin M, Ortega de la Cruz C, Maciuniak PA, Díez del Pino A. Cost effectiveness of a protocol using palivizumab in preterm infants.Farm Hosp. 2017; 41 (2):169