Publication:
Quiste dentígero asociado con mesiodens: Exposición de un caso, revisión de la literatura y diagnóstico diferencial.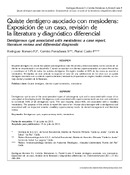 Identifiers
Advisors
Publisher
Ediciones Avances Médico Dentales, S.L.
Abstract
Dentigerous cyst is one of the most prevalent types of odontogenic cyst and is associated with crown of an unerupted or developing tooth. Dentigerous cysts associated with supernumerary teeth are rare and estimated to constitute 5-6% of all dentigerous cysts. The vast majority, about 90%, are associated with a maxillary mesiodens. The purpose of this article to report the case of an 14-year-old a teenager with a dentigerous cyst associated with an impacted anterior maxillary supernumerary tooth, its dental management and literature review.
El quiste dentígero es uno de los quistes odontogénicos más frecuentes y están asociados con la corona de un diente no erupcionado o en desarrollo. Cuando se asocian con dientes supernumerarios son poco frecuentes y constituyen el 5-6% de todos los quistes dentígeros. En región maxilar, el 90% de los casos se asocian a mesiodens. El objetivo de este artículo es exponer el caso de una adolescente de 14 años con un quiste dentígero asociado con un diente supernumerario (mesiodens) impactado en región maxilar anterior, su manejo dental y revisión de la literatura.
Keywords
Quiste dentígero
,
Dientes supernumerarios
,
Mesiodens
,
Informes de casos
Citation
Rodríguez Romero FJ, Cerviño Ferradanes S, Muriel Cueto P. Quiste dentígero asociado con mesiodens: Exposición de un caso, revisión de la literatura y diagnóstico diferencial. Av. Odontoestomatol. 2011, 27 (6), 289-299