Publication:
Comparative review of vertebroplasty and kyphoplasty.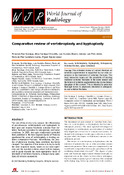 Identifiers
Advisors
Publisher
Baishideng Publishing Group
Abstract
The aim of this review is to compare the effectiveness of percutaneous vertebroplasty and kyphoplasty to treat pain and improve functional outcome from vertebral fractures secondary to osteoporosis and tumor conditions. In 2009, two open randomized controlled trials published in the New England Journal of Medicine questioned the value of vertebroplasty in treating vertebral compression fractures. Nevertheless, the practice of physicians treating these conditions has barely changed. The objective of this review is to try to clarify the most important issues, based on our own experience and the reported evidence about both techniques, and to guide towards the most appropriate choice of treatment of vertebral fractures, although many questions still remain unanswered.
Keywords
Vertebroplasty
,
Kyphoplasty
,
Osteoporosis
,
Vertebral fracture
,
spine metastasis
,
Vertebroplastia
,
Cifoplastia
,
Fracturas de la Columna Vertebral
,
Metástasis de la Neoplasia
Citation
Ruiz Santiago F, Santiago Chinchilla A, Guzmán Álvarez L, Pérez Abela AL, Castellano García Mdel M, Pajares López M. Comparative review of vertebroplasty and kyphoplasty. World J Radiol. 2014 ; 6(6):329-43