Publication:
Prevention of the renarrowing of coronary arteries using drug-eluting stents in the perioperative period: an update.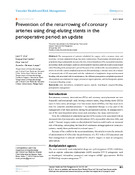 Identifiers
Advisors
Publisher
Dove Medical Press. Auckland
Abstract
The management of patients scheduled for surgery with a coronary stent, and receiving 1 or more antiplatelet drugs, has many controversies. The premature discontinuation of antiplatelet drugs substantially increases the risk of stent thrombosis (ST), myocardial infarction, and cardiac death, and surgery under an altered platelet function could also lead to an increased risk of bleeding in the perioperative period. Because of the conflict in the recommendations, this article reviews the current antiplatelet protocols after positioning a coronary stent, the evidence of increased risk of ST associated with the withdrawal of antiplatelet drugs and increased bleeding risk associated with its maintenance, the different perioperative antiplatelet protocols when patients are scheduled for surgery or need an urgent operation, and the therapeutic options if excessive bleeding occurs.
Keywords
stent thrombosis
,
antiplatelet agents
,
aspirin
,
clopidogrel
,
surgical bleeding
,
perioperative management
,
Pérdida de Sangre Quirúrgica
,
Trombosis Coronaria
,
Stents Liberadores de Fármacos
,
Humanos
,
Revascularización Miocárdica
,
Atención Perioperativa
,
Periodo Perioperatorio
,
Piperazinas
,
Inhibidores de Agregación Plaquetaria
,
Tiofenos
,
Ticlopidina
,
Aspirina
Citation
Llau JV, Ferrandis R, Sierra P, Gómez-Luque A. Prevention of the renarrowing of coronary arteries using drug-eluting stents in the perioperative period: an update. Vasc Health Risk Manag; 6:855-67