Publication:
In vitro methods for diagnosing nonimmediate hypersensitivity reactions to drugs.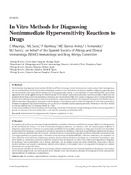 Identifiers
Advisors
Abstract
En la práctica clínica diaria las reacciones de hipersensibilidad no inmediata a fármacos son difíciles de manejar, debido a la heterogeneidad de las manifestaciones clínicas y a la falta de marcadores biológicos selectivos. Los métodos in vitro son necesarios para establecer el diagnóstico especialmente si tenemos en cuenta la baja sensibilidad de las pruebas cutáneas y el riesgo para el paciente de las pruebas de administración controlada. La evaluación in vitro de las reacciones no inmediatas a fármacos incluye diferentes aproximaciones que se pueden realizar en diferentes fases de la reacción. Durante la reacción en fase aguda es posible monitorizar diferentes marcadores en piel y en sangre periférica que puede ayudar a discriminar entre reacciones de hipersensibilidad a fármacos inmediatas y no inmediatas asi como diferenciar entre reacciones cutáneas que teniendo síntomas clínicos similares se distinguen en el mecanismo inmunológico y por tanto tendrán un tratamiento y pronóstico diferente. Durante la fase de resolución, los tests in vitro detectan principalmente la respuesta de las células T tras la estimulación con el fármaco implicado y son de utilidad aunque con ciertas limitaciones, tales como la falta de estudios validados que evaluen la sensibilidad. Además, estos métodos in vitro pueden indicar una respuesta inmunológica no siempre relacionada con una reacción clínica. En esta revisión miembros de los comités de Inmunología y Alergia a medicamentos de la Sociedad Española de Alergologia e Inmunología Clínica (SEAIC) proporcionan una visión general de los métodos in vitro más frecuentes utilizados en el diagnóstico de las reacciones de hipersensibilidad no inmediatas a medicamentos
Nonimmediate drug hypersensitivity reactions (DHRs) are difficult to manage in daily clinical practice, mainly owing to their heterogeneous clinical manifestations and the lack of selective biological markers. In vitro methods are necessaryto establish a diagnosis, especially given the low sensitivity of skin tests and the inherent risks of drug provocation testing. In vitro evaluation of nonimmediate DHRs must include approaches that can be applied during the different phases of the reaction. During the acute phase, monitoring markers in both skin and peripheral blood helps to discriminate between immediate and nonimmediate DHRs with cutaneous responses and to distinguish between reactions that, although they present similar clinical symptoms, are produced by different immunological mechanisms and therefore have a different treatment and prognosis. During the resolution phase, in vitro testing is used to detect the response of T cells to drug stimulation; however, this approach has certain limitations, such as the lack of validated studies assessing sensitivity. Moreover, in vitro tests indicate an immune response that is not always related to a DHR. In this review, members of the Immunology and Drug Allergy Committee of the Spanish Society of Allergy and Clinical Immunology (SEAIC) provide an overview of the most widely used in vitro tests for evaluating nonimmediate DHRs.
Description
Journal Article; Research Support, Non-U.S. Gov't; Review;
Keywords
Nonimmediate
,
Drug hypersensitivity
,
Diagnosis
,
Lymphocyte
,
In vitro
,
No inmediata
,
Hipersensibilidad a Fármacos
,
Diagnostico
,
Linfocito
,
Piel
Citation
Mayorga C, Sanz ML, Gamboa P, Garcia-Aviles MC, Fernandez J, Torres MJ. In vitro methods for diagnosing nonimmediate hypersensitivity reactions to drugs. J Investig Allergol Clin Immunol. 2013; 23(4):213-25; quiz precedeing 225