Publication:
Ghrelin-induced orexigenic effect in rats depends on the metabolic status and is counteracted by peripheral CB1 receptor antagonism.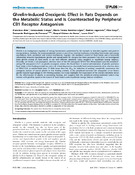 Identifiers
Advisors
Publisher
Public Library of Science
Abstract
Ghrelin is an endogenous regulator of energy homeostasis synthesized by the stomach to stimulate appetite and positive energy balance. Similarly, the endocannabinoid system is part of our internal machinery controlling food intake and energy expenditure. Both peripheral and central mechanisms regulate CB1-mediated control of food intake and a functional relationship between hypothalamic ghrelin and cannabinoid CB1 receptor has been proposed. First of all, we investigated brain ghrelin actions on food intake in rats with different metabolic status (negative or equilibrate energy balance). Secondly, we tested a sub-anxiogenic ultra-low dose of the CB1 antagonist SR141716A (Rimonabant) and the peripheral-acting CB1 antagonist LH-21 on ghrelin orexigenic actions. We found that: 1) central administration of ghrelin promotes food intake in free feeding animals but not in 24 h food-deprived or chronically food-restricted animals; 2) an ultra-low dose of SR141716A (a subthreshold dose 75 folds lower than the EC50 for induction of anxiety) completely counteracts the orexigenic actions of central ghrelin in free feeding animals; 3) the peripheral-restricted CB1 antagonist LH-21 blocks ghrelin-induced hyperphagia in free feeding animals. Our study highlights the importance of the animaĺs metabolic status for the effectiveness of ghrelin in promoting feeding, and suggests that the peripheral endocannabinoid system may interact with ghrelińs signal in the control of food intake under equilibrate energy balance conditions.
Description
Journal Article; Research Support, Non-U.S. Gov't;
Keywords
Animales
,
Ghrelina
,
Masculino
,
Piperidinas
,
Ratas
,
Ratas Wistar
,
Ingestión de Alimentos
,
Receptor cannabinoide CB1
Citation
Alen F, Crespo I, Ramírez-López MT, Jagerovic N, Goya P, de Fonseca FR, et al. Ghrelin-induced orexigenic effect in rats depends on the metabolic status and is counteracted by peripheral CB1 receptor antagonism. PLoS ONE. 2013; 8(4):e60918