Publication:
Prevención del ahogamiento en la legislación española de piscinas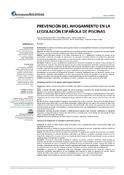 Identifiers
Advisors
Publisher
Universidad Miguel Hernández de Elche
Abstract
Background: Injuries in aquatic environments are linked to the effective compliance of the legal dispositions for swimming pools. Goals: To identify the safety measures against the risk of drowning as exposed in the Spanish swimming pool health legislation and to propose regulatory solutions to guide preventive efforts. Method: Descriptive design based on the documentary analysis of the 17 swimming pool sanitary regulations of the Spanish Autonomous Communities. Rules linked to the protection and prevention against the risk of drowning were selected and categorized into four areas of action: bathing area design, technical standard, water rescue service and user rules and policies. Results: We found a large variability of regulatory requirements that could be improved. There is a lack of safety standards regarding the return water inlets to avoid bather entrapment. Limited attention was paid to the provision of means and conditions for enforcement of the water rescue services. The role of adults in the custody and supervision of minors during bathing is loosely mentioned in the regulations. The internal regime lacks rules disaggregated by vulnerable groups with an increased risk of drowning. Conclusions: Drowning prevention demands a multidimensional approach that introduces modifications in regulatory dispositions to align their goals to increase the safety levels in swimming pools. These findings are valid to guide the legal efforts to reduce the impact of drownings.
Antecedentes: Las lesiones en el medio acuático guardan relación con el cumplimiento efectivo de las disposiciones legales que regulan las piscinas. Objetivos: Identificar las medidas de seguridad frente al riesgo de ahogamiento previstas en la legislación sanitaria española de piscinas y proponer soluciones normativas para orientar los esfuerzos preventivos. Método: Diseño descriptivo basado en el análisis documental de los 17 reglamentos sanitarios de piscinas de las Comunidades Autónomas de España. Se seleccionaron los preceptos normativos relativos a la protección y prevención frente al riesgo de ahogamiento, categorizados en cuatro sectores de actuación: Diseño de la zona de baño, especificaciones técnicas, servicio de salvamento acuático y normas para usuarios. Resultados: Hallamos una gran variabilidad de requerimientos normativos susceptibles de mejoras. Faltan estándares de seguridad en las tomas de recirculación de agua del vaso para evitar el atrapamiento del bañista. Se prestó poca atención a la provisión de medios y condiciones de prestación del servicio de salvamento acuático. El papel de los adultos en la custodia y supervisión de menores durante el baño tiene una mención laxa en las normas. El régimen interno de uso de las piscinas adolece de normas desagregadas por grupos vulnerables con mayor predisposición a sufrir ahogamientos. Conclusiones: La prevención del ahogamiento demanda un enfoque multidimensional que introduzca cambios en las disposiciones normativas, adecuándolas a sus fines para aumentar los niveles de seguridad en las piscinas. Nuestros hallazgos son válidos para encauzar los esfuerzos a nivel legislativo para reducir el impacto de los ahogamientos.
Keywords
Peligros ambientales
,
Investigación normativa
,
Mortalidad
,
Supervisión
,
Promoción de la salud
,
Environmental hazards
,
Normative research
,
Mortality
,
Supervision
,
Health promotion
,
Riscos ambientais
,
Pesquisa normativa
,
Mortalidade
,
Supervisão
,
Promoção de saúde
Citation
Gámez de la Hoz J, Padilla Fortes A, Padilla-Ruiz M. Prevención del ahogamiento en la legislación española de piscinas. Revista de Investigación en Actividades Acuáticas. 2021;5(10):64-71.