Publication:
Guideline Adherence in Outpatient Clinics for Chronic Obstructive Pulmonary Disease: Results from a Clinical Audit.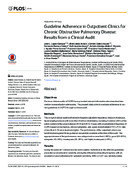 Identifiers
Advisors
Publisher
Public Library of Science
Abstract
OBJECTIVES Previous clinical audits of COPD have provided relevant information about medical intervention in exacerbation admissions. The present study aims to evaluate adherence to current guidelines in COPD through a clinical audit. METHODS This is a pilot clinical audit performed in hospital outpatient respiratory clinics in Andalusia, Spain (eight provinces with more than 8 million inhabitants), including 9 centers (20% of the public centers in the area) between 2013 and 2014. Cases with an established diagnosis of COPD based on risk factors, clinical symptoms, and a post-bronchodilator FEV1/FVC ratio of less than 0.70 were deemed eligible. The performance of the outpatient clinics was benchmarked against three guidance documents available at the time of the audit. The appropriateness of the performance was categorized as excellent (>80%), good (60-80%), adequate (40-59%), inadequate (20-39%), and highly inadequate (<20%). RESULTS During the audit, 621 clinical records were audited. Adherence to the different guidelines presented a considerable variability among the different participating hospitals, with an excellent or good adherence for symptom recording, MRC or CAT use, smoking status evaluation, spirometry, or bronchodilation therapy. The most outstanding areas for improvement were the use of the BODE index, the monitoring of treatments, the determination of alpha1-antitrypsin, the performance of exercise testing, and vaccination recommendations. CONCLUSIONS The present study reflects the situation of clinical care for COPD patients in specialized secondary care outpatient clinics. Adherence to clinical guidelines shows considerable variability in outpatient clinics managing COPD patients, and some aspects of the clinical care can clearly be improved.
Keywords
Instituciones de atención ambulatoria
,
Broncodilatadores
,
Auditoría clínica
,
Hospitales
,
Pacientes ambulatorios
,
Enfermedad pulmonar obstructiva crónica
,
Hábito de fumar
,
España
,
Espirometría
,
Vacunación
,
Alfa 1-antitripsina
Citation
López-Campos JL, Abad Arranz M, Calero-Acuña C, Romero-Valero F, Ayerbe-García R, Hidalgo-Molina A, et al. Guideline Adherence in Outpatient Clinics for Chronic Obstructive Pulmonary Disease: Results from a Clinical Audit. PLoS ONE. 2016; 11(3):e0151896