Publication:
Fortalezas y amenazas en torno a la seguridad del paciente según la opinión de los profesionales de enfermería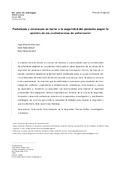 Identifiers
Advisors
Publisher
Escola de Enfermagem de Ribeirão Preto, Universidade de São Paulo
Abstract
El objetivo de este estudio es conocer las barreras y oportunidades que los profesionales de enfermería detectan en su práctica clínica para el pleno desarrollo de la cultura de la seguridad del paciente e identificar posibles líneas de investigación futuras. Se trata de un estudio cualitativo basado en la técnica Delphi modificada sobre un grupo compuesto por 19 profesionales de enfermería del ámbito docente y asistencial, tanto de atención primaria como especializada. Se encontró que las debilidades y amenazas giran alrededor de cinco categorías: profesión; organización e infraestructura; indicadores; comunicación y cultura de seguridad; y, formación en seguridad. Las oportunidades para mejorar la seguridad comprenden seis categorías: cambio organizacional; fomento de la cultura de seguridad, formación y desarrollo profesional; relación con los pacientes, investigación; y, planificación estratégica. Se concluye que existe la necesidad de trabajar para mejorar la seguridad y que la enfermería debe asumir ese liderazgo.
The aim of this research is to know the barriers and opportunities that nursing professionals detect in their clinical practice in order to develop the culture of patient safety and to identify future research lines. This qualitative study is based on the DELPHI method, with a group of 19 nursing professionals from education and care practice, involving both primary and specialized care. Weaknesses and threats revolve around five categories: profession, organization and infrastructure; indicators; communication and safety culture; and safety training. Opportunities to improve safety cover six categories: organizational change; promotion of the safety culture, professional training and development; relationship with the patients; research; and strategic planning. Work is needed to improve safety and nursing should be ready to assume this leadership.
Description
Journal Article; Research Support, Non-U.S. Gov't;
Keywords
Enfermería
,
Administración de la Seguridad
,
Técnicas Delfos
,
Investigación Cualitativa
,
Nursing
,
Safety Management
,
Delphi Technique
,
Qualitative Research
,
Enfermagem
,
Gerenciamento de Segurança
,
Técnica Delfos
,
Pesquisa Qualitativa
Citation
Ques AA, Montoro CH, González MG. Fortalezas y amenazas en torno a la seguridad del paciente según la opinión de los profesionales de enfermería.[Strengths and threats regarding the patients safety: nursing professionals opinion]. [Fortalezas e ameaças em torno da segurança do paciente segundo a opinião dos profissionais de enfermagem]. Rev Lat Am Enfermagem. 2010; 18(3):339-45