Publication:
No evidence of association between common autoimmunity STAT4 and IL23R risk polymorphisms and non-anterior uveitis.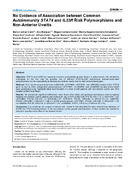 Identifiers
Advisors
Publisher
Public Library of Science
Abstract
OBJECTIVE: STAT4 and IL23R loci represent common susceptibility genetic factors in autoimmunity. We decided to investigate for the first time the possible role of different STAT4/IL23R autoimmune disease-associated polymorphisms on the susceptibility to develop non-anterior uveitis and its main clinical phenotypes. METHODS Four functional polymorphisms (rs3821236, rs7574865, rs7574070, and rs897200) located within STAT4 gene as well as three independent polymorphisms (rs7517847, rs11209026, and rs1495965) located within IL23R were genotyped using TaqMan® allelic discrimination in a total of 206 patients with non-anterior uveitis and 1553 healthy controls from Spain. RESULTS No statistically significant differences were found when allele and genotype distributions were compared between non-anterior uveitis patients and controls for any STAT4 (rs3821236: P=0.39, OR=1.12, CI 95%=0.87-1.43; rs7574865: P=0.59 OR=1.07, CI 95%=0.84-1.37; rs7574070: P=0.26, OR=0.89, CI 95%=0.72-1.10; rs897200: P=0.22, OR=0.88, CI 95%=0.71-1.08;) or IL23R polymorphisms (rs7517847: P=0.49, OR=1.08, CI 95%=0.87-1.33; rs11209026: P=0.26, OR=0.78, CI 95%=0.51-1.21; rs1495965: P=0.51, OR=0.93, CI 95%=0.76-1.15). CONCLUSION Our results do not support a relevant role, similar to that described for other autoimmune diseases, of IL23R and STAT4 polymorphisms in the non-anterior uveitis genetic predisposition. Further studies are needed to discard a possible weak effect of the studied variant.
Keywords
Receptors, Interleukin
,
STAT4 Transcription Factor
,
IL23R protein, human
,
Alelos
,
Autoinmunidad
,
Genotipo
,
Polimorfismo genético
,
Polimorfismo de nucleótido simple
,
Receptores de interleucina
,
Factores de transcripción
,
Uveítis
Citation
Cénit MC, Márquez A, Cordero-Coma M, Gorroño-Echebarría MB, Fonollosa A, Adán A, et al. No evidence of association between common autoimmunity STAT4 and IL23R risk polymorphisms and non-anterior uveitis. PLoS ONE. 2013, 8(11):e72892